REDCRAZE RACING.
ROYAL ACE is an exciting member of the Victorian stallion ranks. He is a member of the most successful stakes winning sire line from one of the world's greatest stallion families!
Royal Ace had an extremely fast finish helping him to win 3 of his first 4 sprint races. He was sound and tough achieving 9 wins, 9 places and amassing over $380,000 in winnings. He displayed versatility winning over a variety of distances between 1200m to 1720m and on all track conditions.
The handsome bay proved an exciting horse for connections as he kept racing and winning well through four seasons. He had success in the Peninsula Cup, a feature at Mornington, one of his career highlights where he was referred to as the 'Iron Horse' by Weir Racing. His brilliant 1m 33.74 sectional over 1600m at Flemington underlined his class.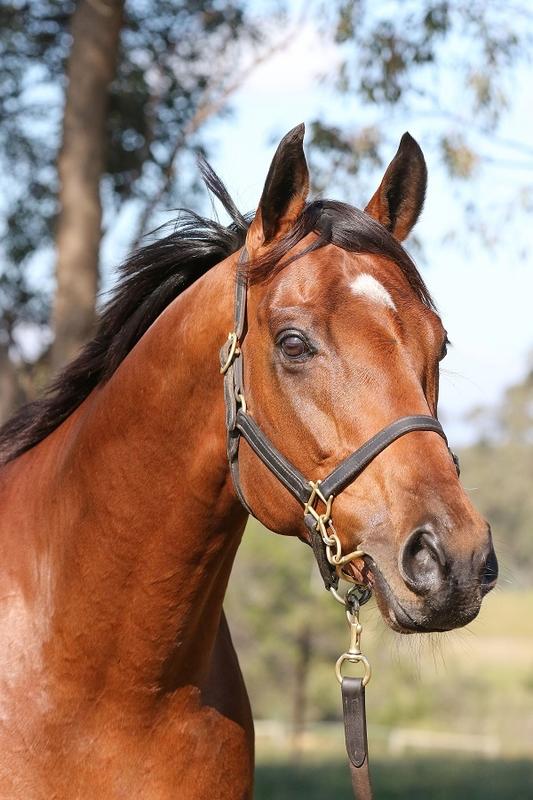 A member of the Danehill sire line, Royal Ace is a son of Casino Prince, winner of the Chipping Norton Stakes-Gr.1., whose 23 stakes winners include Alligator Blood's multiple Group One winning sire All Too Hard. His Grandsire is the Golden Slipper winner Flying Spur, the son of Danehill the world's 2nd greatest sire of Stakes Winners. His first 7 sires were all MULTIPLE G1 PERFORMERS, great genes for ability, constitution and speed to pass on.
His dam is the imported mare She Can't Wait by More Than Ready, the worlds greatest sire of 2,217 individual winners and 5th greatest sire of all time with 221 stakes winners.
His 3rd dam was full sister to sensational LA PREVOYANTE 25 wins, who was the unbeaten 2yo USA champion filly with 12 wins as a 2YO and inductee to both the US and Canadian Halls of Fame. Their dam is the full sister to 14 win champion NORTHERN DANCER (Kentucky Derby, Preakness Stakes, 3rd Belmont Stakes), from one of the world's best families.
Just have a look at the records of Royal Ace's illustrious ancestors… 
NORTHERN DANCER: Kentucky Derby winning breed-shaping sire of 147 stakes winners including the influential stallions Nijinsky II, Storm Bird, The Minstrel, Lyphard and Sadler's Wells.
SOUTHERN HALO: sire of 173 stakes winners including More Than Ready.
MR PROSPECTOR: sire of 182 stakes winners is duplicated 4×5 in Royal Ace's pedigree
DANEHILL: classy on the track, a superstar at stud – the sire of 347 stakes winners including 89 Group One winners, one of the most prolific sire of sires in Australian history.
All descendants of the superlative broodmare Almahmoud, described by American Classic pedigrees as "one of the outstanding foundation mares of the mid-20th century." The only American bred mare to dominate the USA and Europe as well.
Royal Ace is bred on a similar bloodlines cross to SEBRING, being by a son of FLYING SPUR, Australian Champion sire, from a daughter of MORE THAN READY. With his amazing intensity focused on Danehill, he is expected to be highly pre-potent to Encosta De Lago mares (as demonstrated by Alligator Blood (G1), Aethero (G2), Believe Yourself (G2), Catch a Fire (G2), Seaburge (G2,G1p), Clifton Red (G3)) and mares by Sons and Grandsons of Danehill (as demonstrated by Sunlight inbred 4X3 to Danehill, champion filly, Verry Elleegant inbred 3X3 to Danehill, champion filly, Guelph (G1) inbred 2X3 to Danehill, champion filly).
Other superior gallopers male inbred in the 3rd and 4th generations include Frankel, So You Think, Redoutes Choice, Fastnet Rock, Brazen Beau…we have a list of 1,357 multiple stakes winners in total.
His service fee for the 2023 season is $6,600 incl GST.
For further information on Royal Ace, contact Les Pratt on +64 7 883 5778 (Redcraze Racing).
Andrew Pratt - Managing Director

Barbara McComb - Director